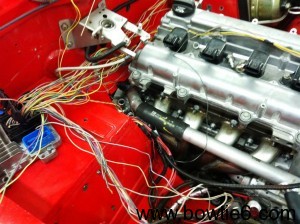 This Memorial Day weekend has been very busy and a great deal of progress has been accomplished with bowtie6's new engine harness.  Why all this effort?
The donor harness came from an HHR with a 2.4 Ecotec.  Obviously, the ECM on the HHR is located in a completely different location.  This means the harness is very long in some places and very short in others.  Very few circuits are "just right", so quite a bit of work has to go into making alterations.  Basically, every sensor circuit to be modified has to be cut, soldered and shrink wrapped in order to maintain 100% integrity.  This takes time.
I guess this is taking things to the extreme but these are the details that differentiate amateur, shade-tree "swaps" from a 1st class, professional installation.  The goal is to make the the engine harness disappear and this is not easy to do.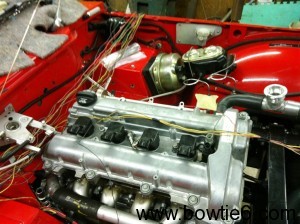 The picture above shows the ECM resting on the passenger's side of the engine compartment.  The ECM will have a new special made enclosure, including relays, fuses and circuit breakers.  Again, it takes time but the results will be pretty impressive.
From the ECM, the harness has been divided into two separate looms:  on the driver's side is the knock sensor, crankshaft position sensor, rear cam sensors, alternator, injectors and throttle body.  The passenger's side loom feeds the coilpacks, O2 sensor, temp sensor, mass airflow sensor and forward cam sensors.  Looks simple but there has been a lot of work into this!
Next to do will be to build the new ECM enclosure and start wiring relays, fuses and circuit breakers.  This will tie all the switched hot leads as well as constant hot feed into the ECM.  Finally all grounds need to be resolved.
Finally, the full exhaust system has been put together.  The bespoke stainless headers have been permanently bolted to the block and the exhaust pipe bolted on.  More on all this next time – it is quite stunning!