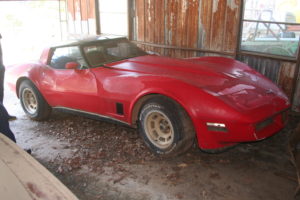 I am constantly in search for a new restoration project and this weekend I took a closer look at this 1980 Corvette.  According to the owner, it has  been stored for a decade and is in need of serious restoration.  Yes, it is a basket case but…  It is a C3 Corvette and it is red!
The 1980 Corvette is not known for anything close to "high performance".  Instead, this is the start of the last body change for the C3 Corvette.  For 1980 through 1982 Corvettes, the nose received a re-design as well as the rear fascia modifications.  Regarding the engine, well, that is another matter completely.  These poor cars became neutered victims of government emissions restrictions and thus, the California equipped engine produced something like 180hp, the standard engine produced 200hp and the high-performance version did at best a whopping 220hp.  Oh how things have changed in 35 years; contrast that with my 2014 Camaro packing 400hp of electronic fuel injected power.
So what do we have here?  According to the build decal on the driver's door,  this car is vintage October '79 production of a 1980 Corvette.  The paint is past its prime, the interior is nasty and the engine is not original.  I have no idea how the engine is because it is not running.  This is an automatic transmission car and it has power widows.  The red paint is very faded but I think it must be the original color because there is not evidence of any other color in the jams.  I tried to look for the plaque with the color code but did not find it.
In other words, this 1980 Corvette is in need of a full body-off restoration.  However, as the following photos will show, there is some good:  wheels are original aluminum options, it has original T-tops and the body panel gaps (especially the hood) fit exceptionally well.  I found the spare tire and all glass is intact including trim pieces.
Front Nose
Since this is a 1980 Corvette, the nose section features the improved aerodynamic design.  In my opinion, it is easier on the eye but not as nice as the chrome-bumper version.  I suppose this is a plus for this Vette.  You can also see what I mentioned earlier, the body gaps are all very nice indeed.  Just by looking at the surface this indicates no earlier collision damage, otherwise why would all this fit so well, right?
Rear and Side Panels
The rear of the car also fits well.  The plastic tail lights show some serious discoloration and weathering but the rear glass is in good condition including the rear de-fogger.  The black trim is all in place, but it has peeled a little on the driver's side.
T-Tops
Oh yes!  T-tops are de rigueur on a C3 Corvette and this one has T-tops.  I did not see any damage to the T-tops although I did not try to remove them.  There is no telling how long ago it has been since they were last removed.
Interior
And now really ugly part:  the interior.  This poor Corvette has not been treated very nicely and consequently the interior is in very poor shape.  The carpet is expired, ditto for the seats, door skins and dash.  The console is also in poor shape.
The knuckle in the tilt steering is broken as well as the outside plastic trim on the steering stalk.  I am not sure if the cloth seats are "original", perhaps they were re-upholstered at some point in time but they will need full restoration – they are nasty!.  Funny thing though… If you look inside the glove box, on the left are slots for 8-track tapes.  Gotta love the 70's!
What Next?
A basket case like this is not a deterrent to me.  After all, when I first purchased bowtie6 many years ago, it was in very bad shape.  Prior to bowtie6, I restored a 1984 Jaguar XJ6 which I drove with Corvette LT1 power for 16 years.  It too, was in bad shape.  Finally I have my cousin Jim's machine shop and his ability to restore cars.
Since the engine is not original in this 1980 Corvette, my plans would be to replace it with a new LSx engine with a matching automatic transmission.  My preference is always a 6-speed but that would need a new pedal box and that would add complexity.  In my opinion the existing engine is just not worth it; instead an LSx will offer enough power to make this Corvette perform to modern standards.
Paint and body work don't scare me either; I have access to paint guns, and a paint booth.  Granted, I have never worked on a fiberglass body but the fiberglass on this car does not show any serious cracks or missing pieces.  There will be a great deal of work preparing the body for new paint but that is mainly hard work and patience and even more hard work.  Finally, there was a little damage to the tip of the edges on the hood near the windshield, but I can almost assume this is a common issue with these cars.
When we inspected the car yesterday, the area under the windshield wiper mechanism looked in very good shape and there was no evidence of poorly repaired collision damage.  Again, the body panels fit very well.  I also inspected the inside of the rear fender wells and there was no evidence of rust.  The rear roll-pan where the spare tire does not show any collision damage either so all-in-all the car looks solid.
One more concern is that both door latches did not work so well.  They appear to be gummed up because the mechanism did not release very well.  The door latches did release but not smoothly.
The interior will be the most challenging aspect.  I did notice the speedo looked odd.  From what I have researched Corvettes of this vintage had the dreaded 85 MPH speedometers installed.  This one did NOT have that; it was a normal speedometer.  Not sure what that means, perhaps this is because it is an October 79 production run.
The seats seem to be intact but the outside cover trim pieces are cracked.  I am not sure what availability of these pieces will be.  As for the rest of the interior, well I suppose that will need patience and a lot of work.
In Conclusion
I did not make an offer on the car.  Unfortunately the owner did not have a clear title and without that, I will not buy the car.  However I think there is potential.  Needless to say, we did not talk money yet but I am sure this car can probably be purchased at a low price.
OK.  I am a firm believer in buy the best car you can find.  However in a case like this, there is potential and if I were to buy this for a reasonable price then all for the better.  These are not super desirable C3's but this is a C3.  I have always liked the aero treatment and I think they just look bad ass…
Finally I am going to reach out to you and ask for your opinion.  If you have owned (or currently own) a late C3 like this and would like to add any words of wisdom, please let me know in the "Comments" section below.  I also would welcome any advice on what you would consider a reasonable purchase price.
I have seen so many pictures of late C3's this weekend my head is spinning!  And what makes this so hard to figure out is all those pictures are stunning!  A 1980 Corvette rebuilt is a looker for sure!
Thanks and look forward to any info, suggestions, etc.