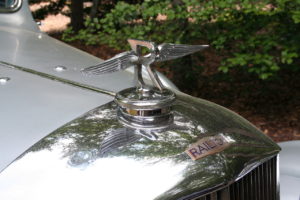 One of the featured cars in the August 2016 issue of Hemmings Sports & Exotic Car magazine is a 1937 Railton Special Limousine by Rippon Bros Coachbuilders.  I had to do a double take when I saw the article because several years ago, I was able to photograph this very car.
But first, what exactly is a 1937 Railton Special Limousine?  This particular car hails from an era where a customer could have a car built bespoke to their specifications.  This Railton's body was aluminum, made by one of England's premier coach builders – the Rippon Brothers.  Matter of fact, Rippon Bros also built bodies for Rolls Royce.  This car was built for Reid Railton who was at the time, a land-speed record holder.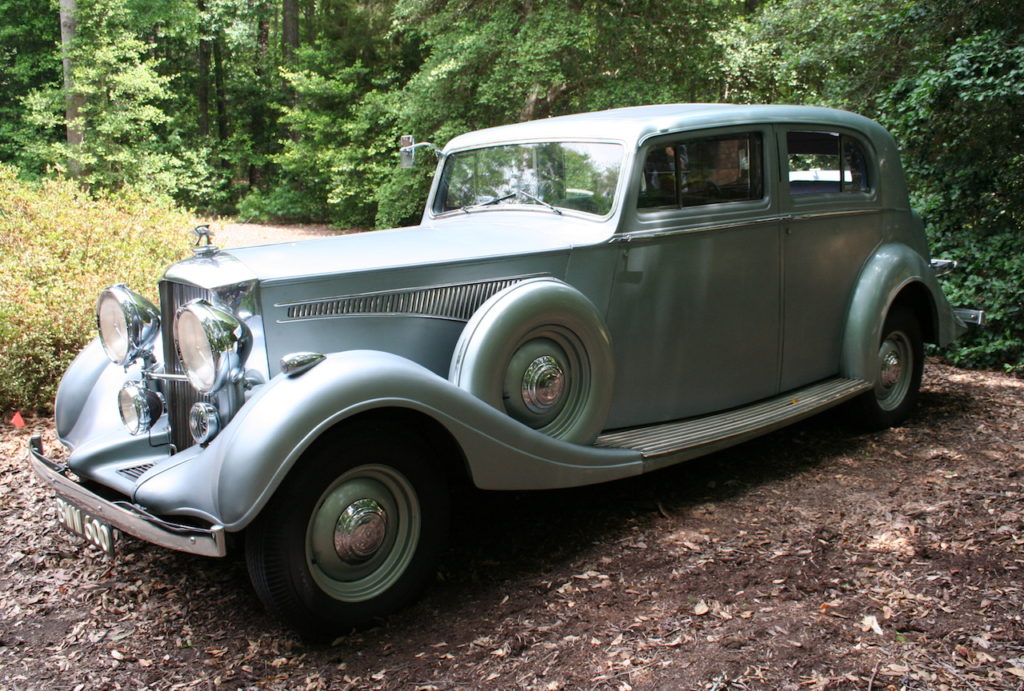 I had a chance to photograph this gorgeous car at a gathering of Hudson automobiles.  The event took place at the then owner's home and there were numerous Essex-Hudson-Terraplanes on display.  But… What does this have to do with a Rippon?  You see, this limousine is powered by a Hudson engine!  Matter of fact Rippon cars were powered by Hudson engines and this was not the only one in the collection.  I'll have more posts about the others soon…
Back to the 1937 Railton Limousine…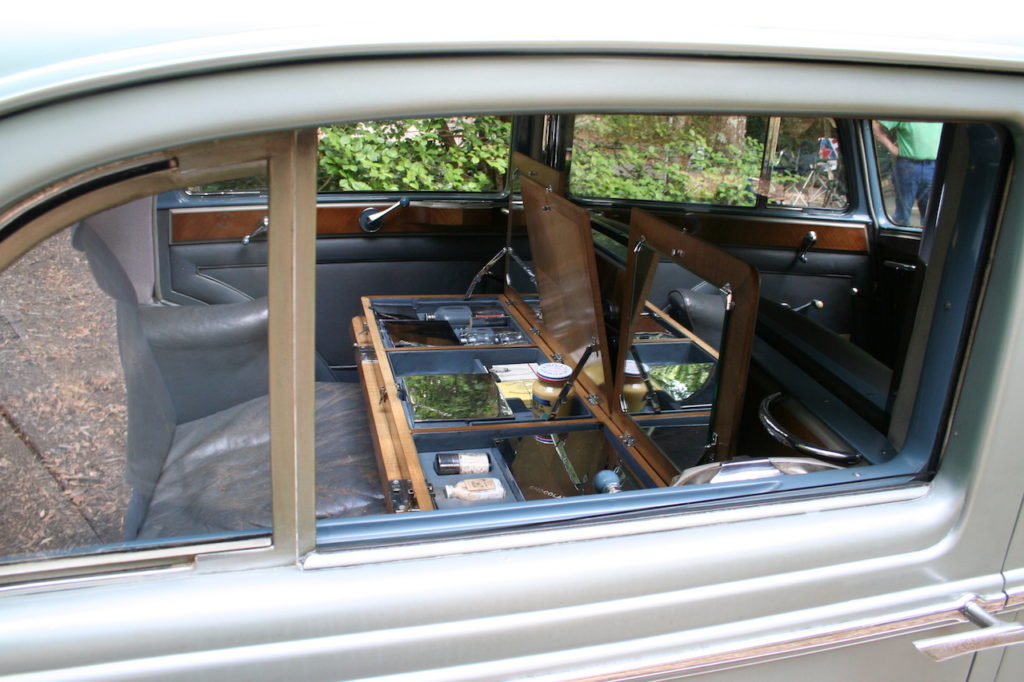 As you can see in this picture, the back seat has access to a pull-out table.  Each side featured a lift-top with compartments for many things…  On one side a fully stocked bar with crystal and barware necessary for making cocktails along with compartments for cigars ; on the other side a vanity, with mirror, hair brush, comb, and aspirin bottle.  There was even a center compartment with silver plated affairs to hold various snacks and sweets.  And that was just the start…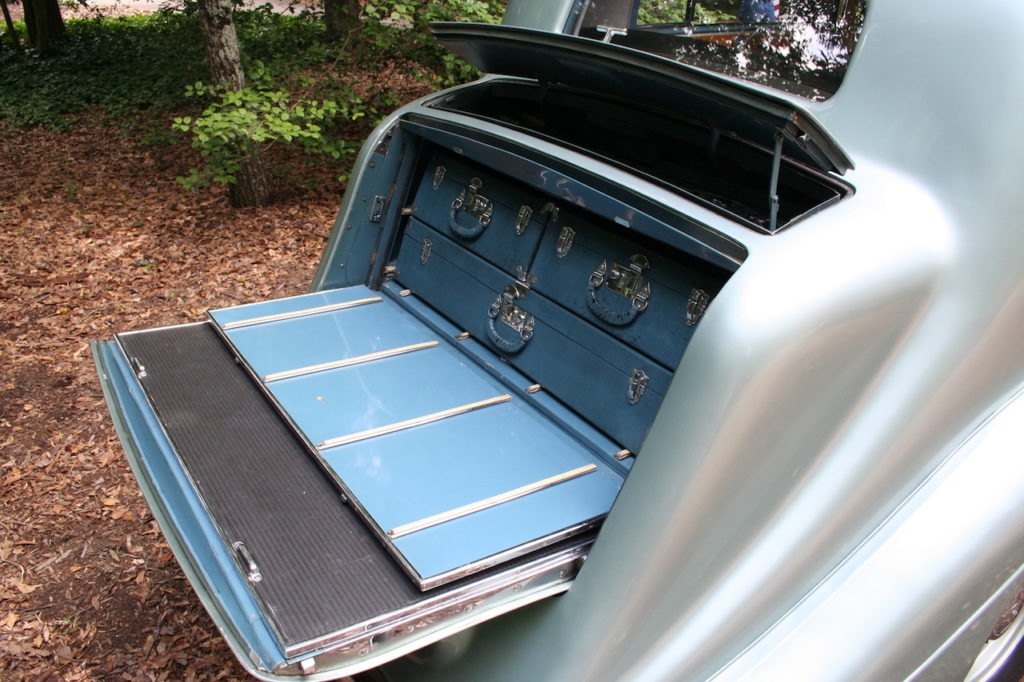 The rear trunk area includes custom fitted luggage!  That compartment at the very top, included plenty of tools all neatly arranged in their respective locations.  That trunk lid is special…  Note the part with the corrugated rubber – that is there for a reason:  it is designed for adults either standing or seated.  But why?  This car could also double as a shooting-brake and yes, it has a "secret", water-tight compartment designed to hold shotguns.  I also remember seeing under the front seat several drawers containing an assortment of fuses, spark plugs, spare light bulbs, etc.  The dash also had a pull out map tray.  There was nothing left to chance here.
The chrome work around the front grille and emblem is something else!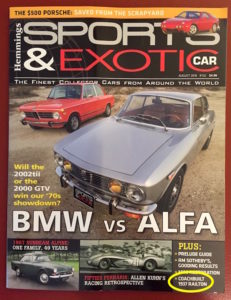 The article in the issue of Hemmings Sports & Exotic car magazine mentions this car is now part of the Gilmore Car Museum (Hickory Corners, MI) and was transferred there by the car's previous owner, a Hudson collector by the name of Eldon Hostetler.
These pictures were taken when the car belonged to the owner prior to Mr Hostetler at his residence in Greenville SC.  If memory serves me right, this was in the summer of 2006.
Finally, I do remember this car as being gorgeous but at the time was not in "museum quality".  According to the article in the magazine, the limousine went through an extensive restoration and won numerous awards.
Further Reading
Conceptcarz.com article about the 1937 Railton Limousine – there are interesting pictures here.
LaVine Restorations article about the 1937 Railton Limousine – apparently the Limousine underwent restoration by this company and there are very nice pictures on this link.
1937 Railton Limousine at Pebble Beach Concours d'Elegance – this link opens to a beautiful photo collection from Ryland Scott Photography at the time the Limousine was shown a Pebble Beach in 2011.
Special Feature at Hemmings website – this link opens the article at the Hemmings website about the 1937 Railton Limousine.