Hard to believe it, but my Z28 Camaro is 20 years old!  😯
I was going through some old papers and came across the original documents for my 1995 F-Body Camaro Z28.  Sure enough,  my daily driver left the Sainte-Thérèse, Quebec, Canada assembly plant the third week of September 1994 as a 1995 model.  This car had been special ordered sometime in early 1994 and hence carries some odd features (more on that later).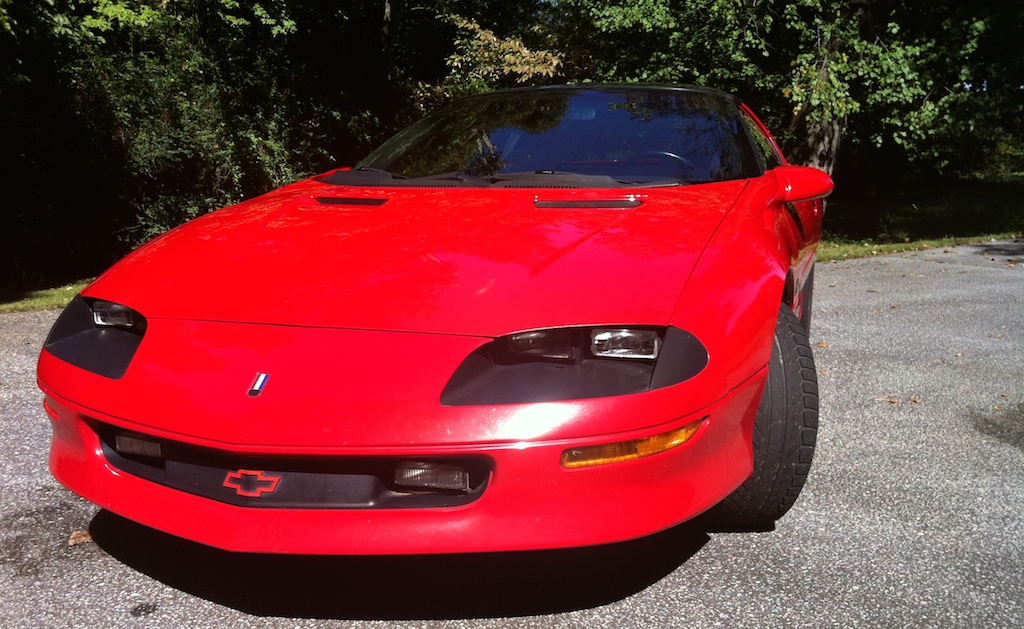 Some History
Back in the day, the fourth-generation Z28 Camaro was quite the awesome machine, sporting wide ZR rated tires, lightweight bodywork and the impressive 5.7L LT1 V8 with almost 300hp and enough torque to light up the expensive Good-Year GSC asymmetric tires in the blink of an eye.
Needless to say, I had to have one.
I remember doing a great deal of research – my heart was set on a 6 speed – but at that time, the manual cars were very, very hard to find.  After many months of searching, an acquaintance who was in the car business told me about a special-order red Camaro that was up for sale at a dealership he knew well.  It came equipped with all I wanted, however that included the 4L60E automatic transmission.
Reluctantly I agreed to go see the Camaro.  It was parked on the front row of the dealership and how nobody had bought it before me has always made me wonder.  At any rate, as I walked up to it I realized it was immaculate.  I opened the door, sat down and looked at the odometer.  It is then when I realized it had only 5,300 odd miles on it.  As I gave the car a closer inspection, I realized this one was a keeper.  We struck a very favorable deal and I signed the dotted line.  Yes, it had the 4L60E automatic transmission but I would have been an idiot to pass this one up.
Purchase and a Few Surprises
A few days later, after the proper paperwork and money changed hands I picked up the Bright Red 1995 F-body Camaro Z28 pictured here.  I'll never forget it:  it had rained that day and the roads were wet.  First stop was to a gas station down the street from the car dealership.  After filling the tank with Premium Unleaded I cracked the throttle a bit too far on the way out the service station.  The posi-traction locked and hooked up and since the street was wet, the rear of the car walked out.
Damn!!  I knew right then I had something special!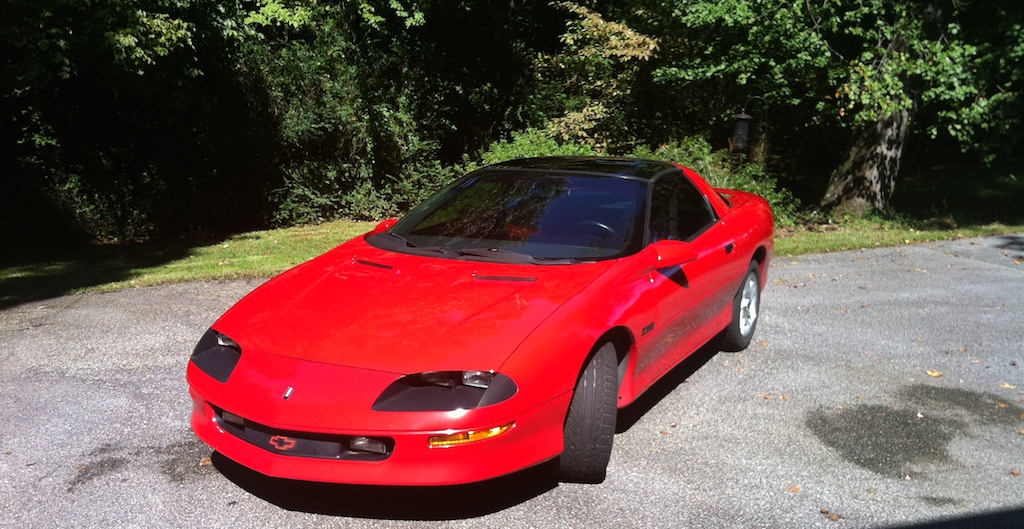 As I went through the glove-box and center console, I found papers.  Many papers.  The original build sheet was there, the window sticker was there as well as the dot-matrix printout from when the car was spec'd out at the dealer when the special order was filled out.  Owner's manual was there as well as the address of the original owner.  That would come in handy because I ended up contacting him for a few missing items such as the extra remote FOB and the T-Top shades.
After meeting the original owner, he told me he requested every option except two:  leather seats and a rear-window defroster.  He told he didn't believe in rear window defrosters.  Well how wrong he was!
Everything else though, was included:  from the upgraded suspension featuring the preferred 3.23:1 rear end differential, to the Z28 package which included the 5.7L LT1 and 4L60E automatic transmission.  The interior was requested with Torch Red cloth inserts and matching door panels.  Also included were the tinted-glass T-Tops with removable inserts and "salad shooter" wheels.  The audio package featured the Bose quad-speaker system with sub-woofer and a CD player – very advanced for the time, might I add!  Finally, very unusual for a 95 Camaro are the body-color mirrors and roof bar (Z28's in 1995 were built with black mirrors and black roof bar).

The Journey
Once I started to get used to the car, I ordered a few "enhancements".  First was a cold-air intake.  At the time not many were available so I bought one of the early Calloway kits with matching K&N filter – it was not cheap!
Glass abounds on the Fourth Gen Camaro.  This lets in a huge amount of heat as well as UV light.  So, to protect the interior I had a dark window tint applied to the door windows as well as the rear glass hatch.  During the summer months I keep the T-Top shades in place – during the winter months I take them off.  Totally transforms the driving experience!
Next I ordered a BMR strut-tower brace as well as beefier BMR rear control arms.  Finally, the sway bars and deCarbon shocks were replaced with the factory installed on the B4C Police Package units.  This enhanced the traction and cornering abilities of my Z28.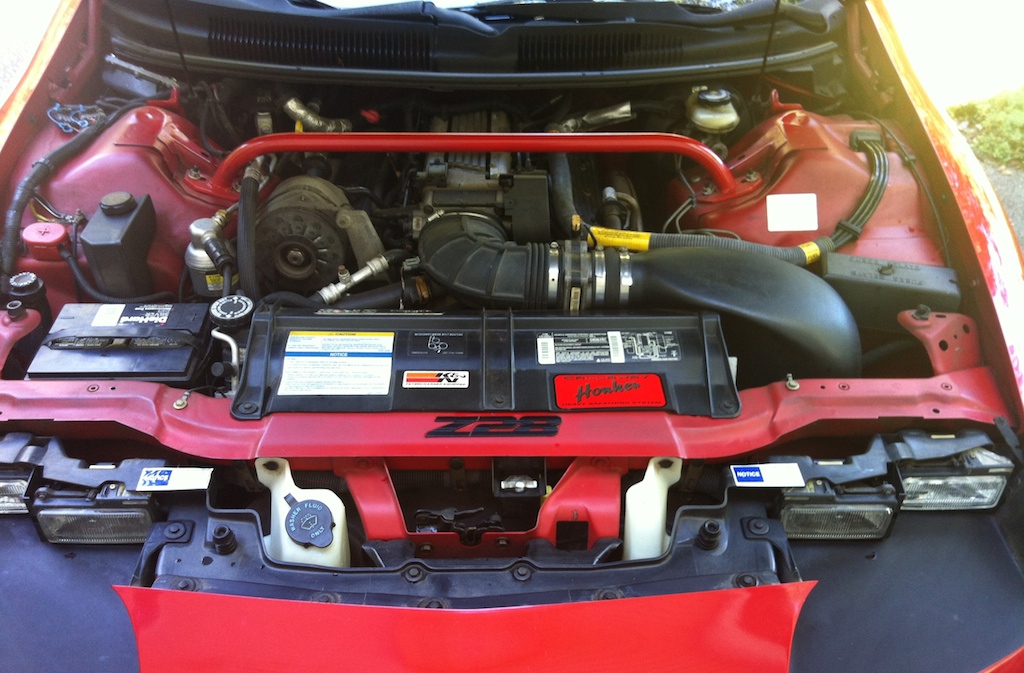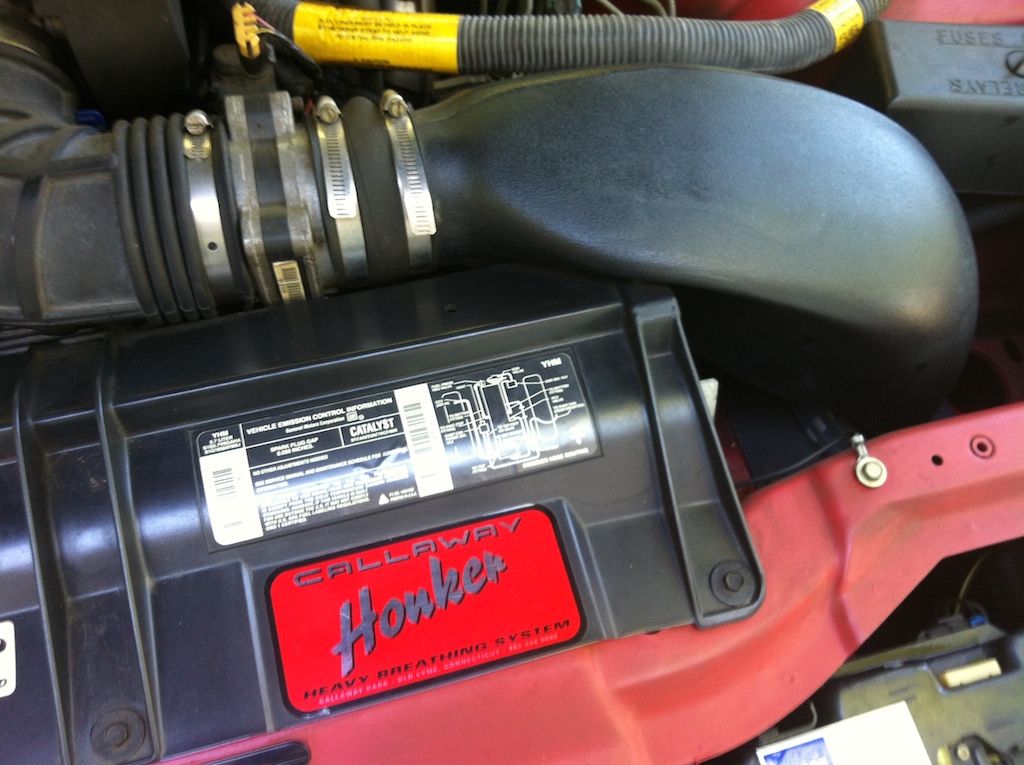 One of the drawbacks about these cars have been the brakes.  So when the factory brakes needed replacing, I splurged and installed cross drilled rotors (front and back) as well as upgraded pads and braided steel brake lines.  While not as sure-footed as my S2000 or bowtie6, the upgrades did make a big difference.  On my list of "to-do" things is to upgrade the front calipers to Wilwoods – maybe one of these days!!
The AC compressor was replaced about 4 years ago.  I've never let anybody touch my car however, when the compressor gave up the ghost I took it to a local, very reputable Chevrolet dealer in Greenville, SC.  They changed the compressor alright, and charged me dearly for it.  However, they did one very shitty job.  Turns out, when the compressor granaded itself, it sent out minuscule shavings that clogged the expansion valve.  Of course, the dealer failed to change said valve and the AC did not perform the way it was supposed to.  Oh, they claimed it was "done to spec" but I knew better.  I ordered a new expansion valve, installed it myself and with my cousin Jim's help, we charged the AC system back up to the correct R134 settings.  Problem solved – AC is cold as the day it left the factory.
Moral of the story?  Don't let shitty dealerships work on your car.
Oil has been religiously changed some 30 times during the last twenty years.  I've always replaced it with Mobil1 synthetic 5W-30 and premium filters.  Yes, my Z28 has 93,000 miles and it is still going strong. These days, I use the Mobil1 High Mileage version since it has a little more ZZDP.
I've gone through several sets of Good-Year GSC's through the years.  Back when the SS Camaros were built by SLP you could order "take off" wheels from them.  These were perfectly new wheels and tires (GSC's) for cheap.  I ordered one of these sets:  they are the five-spoke TransAm wheels.  I ran them for several years and boy did I get a few stares from folks!  The last few sets of tires I ordered came from BFGoodrich and they are nice.  I had them mounted on the original salad-shooters to give the car its original look.
I've bought several batteries through the years – matter of fact, I'm due for one.  With winter soon approaching, this will be the next purchase for the Z28.  Coolant has been flushed several times as well as transmission fluid, differential fluid (with the extra GM "additive") and last but not least, brake fluid.
The BOSE radio/CD-deck was sent off and repaired several years ago.  They did a good job repairing it but just for good measure I bought a "spare" off eBay for a decent price.  Try to find one today!
The most recent replacement item were the gas-filled struts that hold the rear hatch open.  I bought them off eBay and they are perfect.  The bolt holding the strut to the inside body mounts was very difficult to remove – after all these years that LocTite really did its job!  But after some heavy cursing and a good lever, they came loose.  The hatch opens and holds just like new now.
The Future…
Currently, I subscribe to several car magazines.  Forever you read about folks that talk about owning that special car they have owned since the start of time.  They also often talk about the special bonds they have with their rides.  I am no exception.
This Z28 has been part of my life for twenty years.  This machine has been by my side in good times and bad times.  I endured a divorce while owning it.  It has been my best friend when I could not find a friend.  Yes, I have been looking for a Vette for several years but somehow I don't see myself letting my old friend go…
Build quality might not be "refined"; fit and finish is not perfect.  In wet weather the rear tends to "walk" if you crack the throttle too quick.  It is noisy.  It might rattle on bumpy roads.  The window motors stick from time to time.   There is no iPod connector nor satellite radio.  There is no backup camera.  It is, after all a muscle car.
It might be a "Camaro", but it can still hold its own and it does very well.  Recently I took a road trip partly on a freeway, partly on secondary roads.  And still, twenty years later this machine delivers when asked.  I suppose for me, the thrill is still there.
I don't like to abuse my cars.  I like to keep them together in one piece and as such, I give my Z28 a bit of break of sorts.  Yeah, it will light up the rear tires just like before but now it takes two blinks of the eye. 😉  However, I respect the old warrior.  It has definitely earned that respect.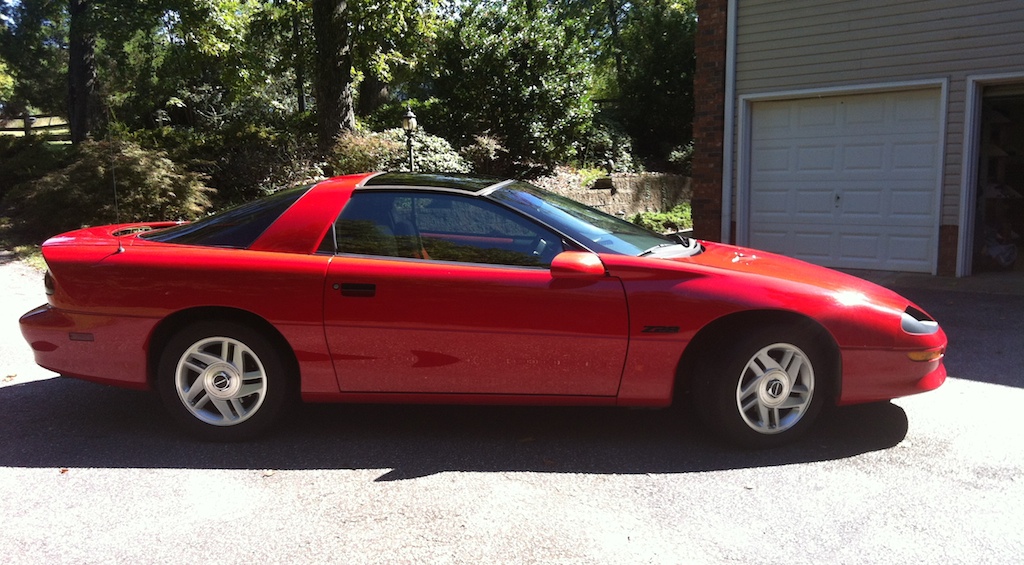 In Summary
Twenty years ago, this Z28 was state-of-the-art and oh believe you me, it turned heads.  Did it ever!
Ten years ago, Z28's like mine fell in the hands of second, third, fourth ownerships and the great majority started to show as if they had been driven hard and put up wet.
Today, I look around as I drive to work every day and rarely see Fourth Gen Z28's (or cousin WS6's) on the streets anymore.  Yes, there are a few out there but not many that are well taken care of.
Who knows, if I hold on to my Z28 and continue to keep it up maybe ten years from now (or sooner), I can drive it to Cars & Coffee and once again, turns heads…
That would be pretty cool.