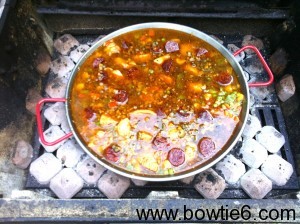 One of my favourite Spanish dishes is paella.  This is a dish that goes back to my childhood – my grandfather taught me all about paella at an early age.  When the missus and I visited Spain the last time we went to Europe, we made it a point to search for authentic paella.  Fortunately we did indeed find the real deal and I took plenty of notes and even bought a couple of books.
The above picture shows the fully assembled paella in the special dish used to cook it.  What is in paella?  Basically it is a rice dish that includes quite a number of tasty items.  Today's version is a modified 'a la Valenciana' – including chicken, Spanish chorizo and shrimp.  Not any rice will do though: it requires arroz bomba – a spanish rice with a special shape that lends itself to being cooked this way.  A sofrito of bell peppers, onion and garlic is the base and that along with plenty of saffron, alcaparras (capers) and aceitunas ( olives) makes for a very tasty dish.  I cook my paella in a gas grille with the pan on top of the ceramic briquttes – this gives a very even cooking temperature.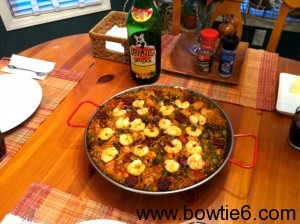 What does this all look like when done?  Take a look at the following picture – all the stock has been consumed by the rice and the dish is ready to eat.  The trick to good paella is to cook it for the exact amount of time in order for the rice at the bottom of the pan to cook to a very nice crunchy crust (referred to as socorrat).  It is hard to do:  not enough time, and it won't get crunchy and if you cook it too long it will burn.  If you get it "just right" though, it is fantastic.  Serve this great dish with a good Rioja or sangria and some good bread to close friends or family and you have a great dinner!