I've had enough of the 90th Macy's Thanksgiving Parade.  Anticipating company that will soon be arriving I decided to fire up my 6 month old Hitachi leaf blower and clear out the driveway, front walk and back patio – after all, Thanksgiving weather is in low 70's today, here in the Upstate of South Carolina.
And sure enough the damn thing refused to start.  On close inspection, the reason for the failure appears to be the carburetor is not priming.  Press the rubber bulb, right?  Well sure.  But the grommet leaks and fuel spills out instead of getting pumped into the carburetor.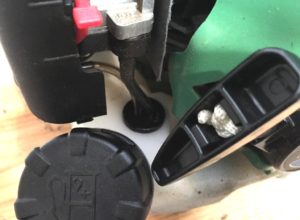 And here is that grommet I speak of.  It has two rubber lines coming out of it, and they are just press-fit in the two holes on the grommet.  Of course, when one pumps the bulb, fuel spills out through the little lines.
And yes, I have followed the recommended fuel requirements:  this blower is using 100% straight fuel (or at least that is what the pump said) instead of that ethanol laced crap sold today.
Of course we all know the reason for this:  today's fuel is just not what it used to be.  All these rubber parts are made of the cheapest materials.  The grommet pictured above should be made of Viton so it would be impervious to today's fuels.  But no.  This stuff is mass-produced and this part would eat at the bottom line.  That CEO at Hitachi would fail to get his bonus.  Instead us consumers get the shaft.  Again, this blower is only 6 months old.
Fortunately, these parts are available online.  I just placed an order for a new grommet and fuel lines because you know the minute I go replace this those lines will be brittle and start leaking themselves.  Oh but here is the kicker…  These parts totaled about $8 bucks with a $7.95 shipping & handling charge.  Go figure…