In the previous entry, I talked about my friend Barry's Chevy Cameo pickup that my cousin Jim has been working on.  Today, I wanted to show what the tailgate looks like…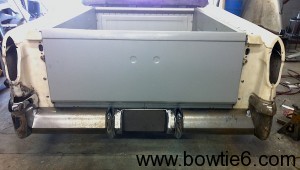 The tailgate consists of an inner and an outer shell.  Both shells are fiberglass as the two outside skins on the bed.  On the inside skin at each end is a latch with a lever that unlocks the mechanism that allows the gate to open.  Pretty nifty.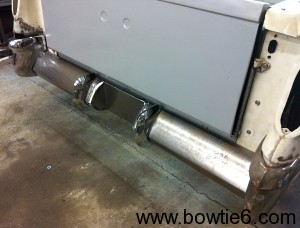 But… Take a look at the bumper in both of these pictures.  That is some of Jim's handy work.  The two outside chrome pieces (under the tail light openings) part of the original design.  Barry ordered two (one for each side) but the folks that sold them to him sent him two right hand sides.  That is why the left one looks pitted.  Then, the two center chrome pieces are also reproductions of the original design.  However, the bumper itself has been hand made.  Jim bent that and welded in the center section that will eventually hold the license plate.
As you can see, Barry's truck is taking shape.  Stay tuned…  I'll have updates as they become available…  🙂