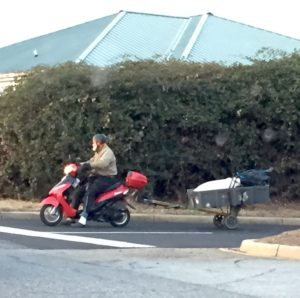 My friend Jeff sent me this photo just a few minutes after leaving work yesterday, November 22nd.  I suppose this is as good an example of "necessity being the mother of invention" as any…
Interesting how mopeds are becoming more and more prevalent in our busy streets.  The sad part about this is that these transportation conveyances are so non-regulated.  Then again, this is why they are so easy to acquire and to ride.  Catch 22 for sure.
Don't take me wrong, I am not scorning folks driving these machines on city streets and highways but some of these folks certainly go to extremes at the expense of their own (and others) safety.  And adding insult to injury with no regard to basic laws and driving conduct; ie., driving in the left lane, hogging the road or hauling a keg of beer, etc.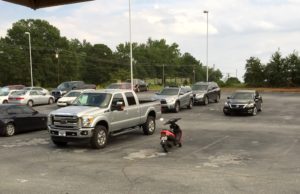 While on the subject of mopeds…  I took this photo several weeks ago.  It shows two extremes in transportation – a sign of our times.  On the left a fully loaded $60k Ford pickup and on the right another moped.  Two chariots providing the same basic concept – moving from point "A" to point "B" – but with different levels of safety, comfort, status, and the list goes on.
Finally, a short story on the silver high-dollar truck shown in the picture:  The truck was a "loaner" given to a co-worker by a local Ford dealership  Turns out several months ago my friend had bought one of the new Mustangs with the V6 engine.  Said Mustang developed a voracious "appetite" for engine oil and eventually started making strange noises.  The dealer took the engine apart, put it back together and that yielded more strange noises.  After weeks that turned into months the good folks at FOMOCO did like Tammy Wynette standing by her man and in this case, stood by their steed:  they sent a brand new crate engine replacement.
All is well now after the engine transplant and my friend is back on the road enjoying his Mustang.  I guess this must have been a bad omen though…  FOMOCO has ceased production of the V6 engine Mustang…
So happy Thanksgiving 2016 to you all.  I for one have much to be thankful for and with much optimism that America will be made Great Again.