Cooling System
In order to ensure proper cooling of the L32, the radiator is an all aluminium unit from Griffin Thermal Products. This is the same design as those used by NASCAR except for the dimensions, which are a bit smaller. These radiators are state-of-the art and are quite pricey. However, this is the only way to keep things cool.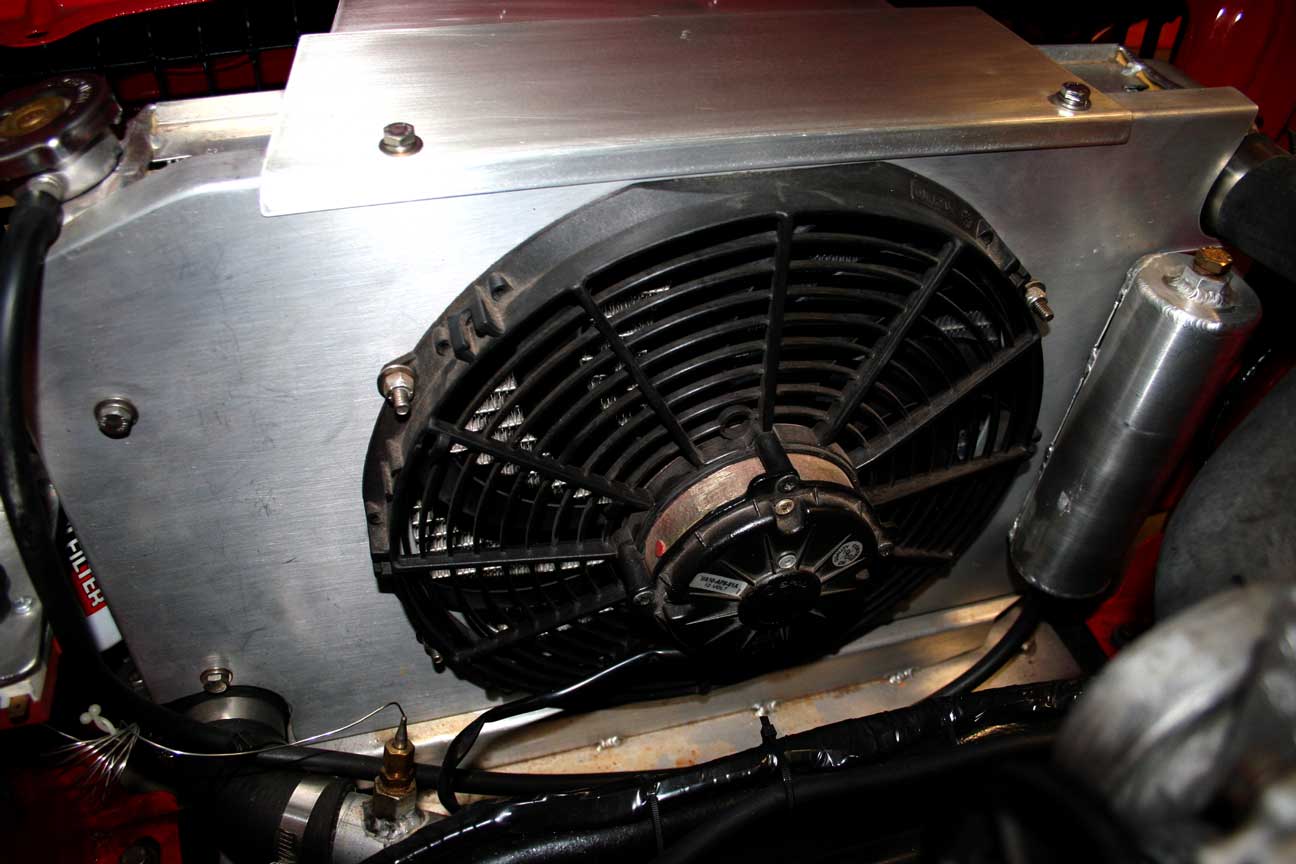 Behind the radiator is a shroud made from a sheet of aluminium. It is shaped to fit about an inch or two from the back of the radiator and sealed by heavy heat resistant foam. This forces air to exit through the fan opening at all times. The fan is secured to special threaded pedestals on the back of the tanks on either side of the radiator. Like I said before, these radiators are NASCAR grade and are a work of art just to look at. Too bad it is covered by the shroud!
Attached to the shroud is a SPAL electric fan. SPAL fans are extremely efficient and flow tremendous amounts of air for their size due to the blade design and high quality fan motor. You also pay for all that high performance! They are so good the boys in Maranello install these fans on those cars with the little prancing horse on the hood.
The fan is thermostatically controlled by a sensor fitted to the bottom coolant hose. This sensor is connected to a capillary tube connected to the fan controller. The controller is electrically wired to a relay that switches heavy voltage used to run the fan. This is done to put less stress on the controller.
The controller has a knob that when turned allows for 'dialing in' the moment the fan kicks in. Normally, the L32 likes to run at around 195 degrees Fahrenheit. The fan is set to kick in around 215 degrees Fahrenheit and turns off at around 190 degrees Fahrenheit. The coolant used is a 50/50 mix of the green stuff with distilled water and a bottle of WaterWetter just for good measure. The system is so efficient that the fan only runs when in heavy stop-and-go traffic or when the engine is left to idle for a long period of time. At speed, the fan does not run at all. Then when the fan does run, it does so only for a few moments. Heat is extracted quickly!
To the right of the shroud is an aluminium overflow tank. This tank holds any coolant that expands as the system becomes operational and is connected via a rubber hose to the radiator's filler neck.